Policies
Time and Rates
Most sessions are one to two hours. Rates for therapeutic services range from $75 to $250 per hour depending upon the type of therapy and the colleague chosen, and are billed in fifteen minute increments after the first half-hour. We welcome your business and look forward to meeting you.
Scheduling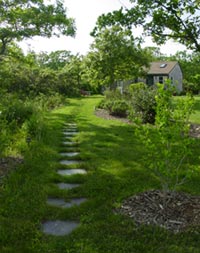 We accommodate your scheduling needs whenever possible and although early morning and late evening appointments are available, we do charge an additional fee of $20 for appointments scheduled before 8am or after 8pm
First Time Clients
We recommend an hour and a half for treatment time. Leave yourself plenty of relaxation time after your massage so you receive the full benefit of your session. Always drink extra water following any bodywork.
Precautions
Please specify in advance when you need unscented oils due to pregnancy, allergies or personal preference.
Attire
If receiving bodywork such as Thai, wear loose, comfortable clothing, not jeans. When receiving a massage you will always be covered with a sheet.
House Call Services
We welcome the opportunity to bring Bodysense therapists to you. Please keep in mind that fees for this service reflect significant travel time incurred. Rates quoted are for each therapist, per location. Note: On Martha's Vineyard the charge for each therapist is $100 for one client per house call. If more than one therapist is called, the charges are duplicated for each therapist.
Pamela and colleagues frequently travel off-island for continuing education. Please check in if we are going to be in your area.
Massage Table Discount
If you provide your own massage table, we will reduce the house call fee by $10.
Year Round Benefits
On Martha's Vineyard, benefits are given to clients who reside and make their living here year-round. Consult our rates for the discount. You must tell us ahead of time to receive this discount.
Sometimes the intricacies of house call fees and reductions can be confusing. Please don't hesitate to speak to our office manager if you have questions regarding our charges.
Cancellation
Unless we receive 48 hours notice of cancellation, the full fee for scheduled services will be charged to your credit card.
Late Arrivals
We recommend that you leave extra time for traveling to Bodysense because we cannot guarantee a full session should you be late for your scheduled appointment. We will use whatever remaining time is left after your arrival and you will be charged for the full amount of the scheduled session.
We thank you for choosing Bodysense for your therapeutic bodywork needs and we invite you to come to visit our massage studio in West Tisbury anytime.